Trendy Twine Firecracker Page
Hi all this is my first guest designer spot for
Trendy Twine Blog.
Which I so love. I was lucky enough to win one of
Trendy Twine's
fabulous prize packs a few weeks back for a promotion. I got every color twine they have except for a couple new ones. Well I used some of that twine to make this Firecracker Scrapbook Layout.
I used my
Trendy Twine
in
Berry Red
(which is on sale for a great price of $7.95) and
Blue Berry
, on my layout. Now I love Trendy Twine because some of the twines have 3 colors instead of just two colors twisted in. Like Blue Berry which is a mix of Dark and Light Blues.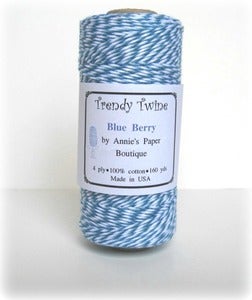 I used three size punches to make the firework circle pieces and wrapped them trendy twine. Then used a little more twine to finish off the bottom of my page.
My page before the spritz and the stickers!
What a difference.